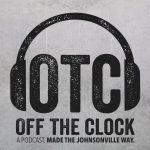 Happy Thanksgiving from Off the Clock!
In this episode we sit down with the member formally known as Kayla Mueller, now Burhop (congrats again Kayla!). Kayla takes us behind the scenes for Making Spirits Bright, where she is the Social Media Coordinator. Making Spirits Bright has truly become a holiday staple in Sheboygan, and Kayla has loved being a part of this amazing organization! She can't wait to see you under the lights this season!
Please check out Making Spirits Bright online for more details!