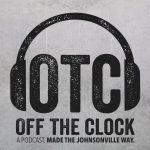 On this week's episode of Off the Clock, we are joined by not only a new guest host, but 3rd shift Sanitation Coordinator, Bob Warwick.  Get ready to learn all about Bob's exciting football career, his amazing family, and a good deed he and his wife did for a fan of Johnsonville.
Don't miss the newest episode of Off the Clock, a podcast made the Johnsonville Way! There is a new episode posted every Monday!
You can check out Off the Clock on any of your favorite podcasting apps. If you can't find us, please let us know!
For more fun with episodes, be sure to visit www.thejohnsonvillepodcast.com/ and find us on Instagram at www.instagram.com/offtheclockpodcast/. You will find posts with pics, links to videos, and more fun content with Instagram and the website!
If you know someone who should be on the podcast, or you would like to join in the fun, please let us know! Thank you to all the members who have joined us already!
Thank you for your support! Enjoy!